Air Date: 5-15-2015|Episode 368

This week in IAQ Radio we welcome the The Green & Healthy Homes Initiative (GHHI) President/CEO Ruth Ann Norton and The GHHI Director of Maryland Program Services Mark Kravatz…
Full Description:
This week in IAQ Radio we welcome the The Green & Healthy Homes Initiative (GHHI) President/CEO Ruth Ann Norton and The GHHI Director of Maryland Program Services Mark Kravatz. In addition during the second half of our show we welcome Building Performance Institute (BPI) CEO Larry Zarker.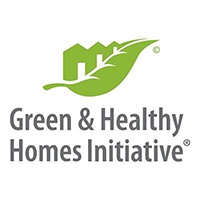 The Green & Healthy Homes Initiative (GHHI) is dedicated to breaking the link between unhealthy housing and unhealthy children. GHHI replaces stand-alone housing intervention programs with an integrated, whole-house approach that produces sustainable green, healthy and safe homes. As a result, they are improving health, economic and social outcomes for families across the country. BPI is an important partner in this effort, this year GHII was selected by EPA to receive the prestigious Environmental Leadership Award in Asthma Management.
Ruth Ann Norton serves as President & CEO of GHHI, a national nonprofit founded in 1986. A dedicated advocate for healthy housing, she broadened the mission of the organization, formerly the Coalition to End Childhood Lead Poisoning, by designing a groundbreaking national program built on a framework of cross-sector collaboration to efficiently deliver green, healthy and safe homes in communities throughout the United States.
Mark Kravatz is the Director of Maryland Program Services for Green & Healthy Homes Initiative (GHHI). In this role, he collaborates with public and private sector partners to optimize and expand resources for GHHI and is responsible for program planning and supervision, contracts and grants management and partner relationship management. He also oversees production of bid proposals, grant applications and reports and integration of data capture throughout program implementation.
Larry Zarker is CEO of the Building Performance Institute (BPI) a partner organization to GHHI. With over 30 years of experience in the residential buildings sector, Larry has managed the national expansion of BPI's standards, credentialing and quality assurance programs. Mr. Zarker has been BPI's CEO since 2006 and under his leadership active certifications have increased from 1,000 to more than 25,000 nationwide. He has also led the expansion of BPI's network of independent testing organizations that deliver BPI exams from 40 organizations in 2008 to more than 200 organizations today.
Z-Man's Blog:
"Small things in life, done well, have great results."
On this week's episode of IAQRadio, Radio Joe welcomed the Green & Healthy Homes Initiative (GHHI) President/CEO Ruth-Ann Norton, the GHHI Director of Maryland Program Services Mark Kravatz and CEO of the Building Performance Institute Larry Zarker.

 Nuggets mined from this week's episode:
Ruth-Ann Norton- provided history of the initiative, which was started in Baltimore in 1986 by parents of kids suffering from childhood lead poisoning. The group's mission was to break the link between unhealthy housing and childhood lead poisoning. The group has been highly successful, reducing 98% of lead poisoning in Maryland and 86% nationwide. When testing homes for lead paint their inspectors found many other issues that impacted health such as mold problems and other IAQ issues so the group's interest and reach broadened. The group collaborates across sectors and is currently working in 21 US cities to: reduce asthma, lead poisoning, slip and fall injuries, reduce cost of energy, improve health and economic outcomes for kids and families.
Mark Kravatz- A green and healthy home is a home where we are treating the entire built structure as a comprehensive system; recognizing that a home works to provide protection for families. Ensuring families have proper IAQ, energy efficiency, reduce allergy and asthma triggers, is pest free, and mold free reduces stress for family. The group also considers behaviors that people bring into the homes (smoking, etc.) that can increase energy cost and trigger asthma. Both the built environment and occupant behavior are key to a green and healthy home. Eights elements of healthy housing: keep it dry, keep it pest free, keep it maintained, contaminate free, clean, ventilated, safe, and energy efficient. The group provides "how to do training" to building owners and contractors and is now teaming with BPI.
Larry Zarker- Working as a partner group with GHHI, BPI is pulling a broad premier partnership together including university programs and certifications. The idea for certification came out of a joint presentation that Larry made with Ruth-Ann and Kevin Kennedy, Managing Director for the Center for Environmental Health at Children's Mercy Hospitals and Clinics in Kansas. BPI's initial focus was health and safety, combustion appliance zone and gas leaks. Observing the way people live in their homes, BPI building analysts noticed other issues that can dramatically impact the health of the occupants for example moisture from basement or crawl spaces. "Our homes suck and that's why our kids have sinus problems", is the title of his presentation. Due to stack effect, air and moisture from basement & crawl spaces, moves through the home carrying asthma triggers and allergens with it prior to capture by the furnace filter. BPI is building a coalition to make a positive difference in homes.
BPI has started a certification task group by bringing together a group of subject matter experts to get new credential (micro credential add-on or standalone) into the market place. Larry and BPI are committed to bringing a new credential into the marketplace.
Ruth-Ann Norton- attributed the EPA's 2015 National Environmental Leadership Award in Asthma Management to her group's program for streamlining asthma management by focusing on the holistic assessment of homes and simplifying the financial aid and grant application process. The group provides education and structural intervention. Statistics from their program demonstrate a 60% reduction in child hospitalization, 52% improvement of kid's attendance in school, increased perfect school attendance and improvement in the ability of families to get to work. The program is an extension of the health clinic. The program receives referrals from health care clinics, social workers and community organizers.
Mark Kravatz- 21 other cities and health departments use the Baltimore model Program referrals come from: care providers, dept. of health and community based outreach. Caseworkers or nurses bring families to the service provider. During the intake process a customized 29 point assessment, weatherization audit and scope of work are created. There is no longer a need for applicants to navigate and go through multiple programs. Application is streamlined and multiple resources are brought together resulting in comprehensive "one-shot" work proposal. Site assessment, preparation of scope of work and quality control are all done in house. Families are connected with additional resources as needed. Staff trained to deliver a BPI building audit and health safety audit, integrated pest management, comprehensive health and safety, lead, asbestos, and comprehensive BPI audit. Other cities currently use outcome brokers. As other cities gain experience and become certified they can go in as a team and create a cope of work.
Ruth-Ann Norton- Improving outcomes for children and families, who pays for this? GHHI federal programs, state programs, supporting weather efficiency, healthy homes programs, lead hazard reduction grants, community development block grant money and philanthropic funding from foundations. Pay for Success programs (are an innovative funding model that directs government resources toward social programs that prove effective at providing results to the people who need them most. PFS gives highly effective service providers, including nonprofits and charities, access to flexible, reliable, and up-front resources to tackle critical social problems by tapping private funding to cover the up-front costs of social programs). Making contractors the new face of healthcare.
Larry Zarker- While sharing the podium with Ruth-Ann and Kevin Kennedy, Kevin said we know what needs to be done, we need a national network of people trained up that can do the work. BPI has 25,000 trained people in the field. Bringing in air you can trust, weatherization can either assist or exacerbate IAQ problems. BPI's Infiltration and Duct Leakage (IDL) certification for IECC code compliance in new houses, combining duct leakage and the blower door test is the group's fastest growing certification.
Ruth-Ann Norton- The Affordable Care Act (ACA) movement to invest in awareness and invest in community based solutions allows for investment in root cause remediation. ACA is paying for better assessment and better remediation for chronic illness such as asthma. Strategic and economic opportunity to invest in keeping people from readmitted to hospitals. Data on repair costs reducing hospital and emergency room costs, Medicaid and Medicare costs and utility bills. Proving with hard data a move afoot in healthcare to start to pay for these interventions that have long impact. 58 other cities/counties have applied to become part of the GHHI program.
Mark Kravatz – Major asthma and allergy triggers include: mold, rodent feces, insects, dust mites, environmental tobacco smoke, VOCs, excesses in temperature, inadequate ventilation or filtration. Behavior change is important, recognition of the importance of "clean", superiority of wet cleaning methods, and safe cleaning products. Importance of HEPA vacs, high grade furnace filters, and pollen season
Larry Zarker- Oak Ridge National Lab is reviewing data from a weatherization study of 90 homes conducted by the Opportunity Council in Bellingham, WA and will be publishing a report soon.
Ruth-Ann Norton- Families receive instruction and cleaning supplies including a HEPA vac during intervention. Families are taught the importance of thorough cleaning.
Ruth-Ann Norton- Lead paint is one of the best public health stories, 86% reduction. Still today 535,000 kids are poisoned by lead annually. Even the lowest levels of lead cause cognitive impact, heart problems, school dropout and violent behavior. Every kid getting to the classroom healthy and ready to learn improves society. A change the trajectory of what is happening. Continue to test homes and kids and continue to wage the war on lead based paint. We know what to do, how to address it. Money makes a difference every $1 invested in lead has a $221 return. In MD law the majority of the money was paid by property owners. Look at re-managing and redirecting money. Spend money smarter. Healthcare provider investment for outcomes that work based on evidence based practices. Most people want to do the right thing. Small things homeowners and contractors can do can make a big difference.
Larry Zarker- BPI works with 130 state programs incentivizing energy savings. Energy efficiency isn't the top driver; health comfort, safety are of highest concern to homeowners. Energy efficient homes can be healthy.
Ruth-Ann Norton- Motivator for marketplace, people can see, feel and live better.
Mark Kravatz- The home is a complex system, when you buy a cellphone you receive an intense instruction booklet; there is no handbook on how to operate the home. Share the information with friends and family.
Larry Zarker- Commended the Dept. of Energy for its leadership in developing standard work specifications, creating 4 job task analyses, and the four Home Energy Professional certifications that are making a big difference in the market. DOE invested money to study how weatherization and health work together. During the recession 1,000,000 homes were weatherized with stimulus funding creating many jobs and many jobs done well.
Ruth-Ann- Kudos to common sense. Doing the right thing pays. Government investment, investment by smart and important partners moving the needle, the importance of let's invest before kids are sick, let's help families to live better lives. Creating resources, true partnerships and collaboration that allow the best work to deliver the best outcome for family. Improving indoor air quality in houses will improve ability to get to school will improve their test scores.
Small things in life done well have great results.
Today's Music: When I get To The Green Building by Electric Six  YouTube
Trivia: Name the documentary film made about a famous British architect?
Answer: How Much Does Your Building Weigh, Mr. Foster?
Z-Man signing off